ESDL Spring/Summer 2016 Newsletter
Personnel
In 2015, we welcomed two PhD students, three postdocs, and a lab manager to the ESDL.
Erin Beller, and Hongxu Ma, our two new PhD students, hit the ground running. Erin is a historical ecologist with an undergraduate degree from Stanford and several years of research experience with the San Francisco Estuary Institute (SFEI). She continues to work at SFEI part time while completing her degree. Hongxu has a bachelor's and master's degree from Wuhan University in China and has expertise in hydrology and remote sensing.
Chris Tennant, who recently received his PhD from Idaho State, joined the lab as a postdoc at the end of summer 2015. He is a snow hydrologist with a strong interest in data science. Dino Bellugi, a Berkeley alumnus for his PhD, joined the lab in December after a stint at MIT as a postdoc. He has expertise in landslides, computer science, and data science. Will Nardin joined us in spring 2016 as an NCED-2 (NCED = National Center for Earth Dynamics) postdoctoral scholar. His expertise is in numerical modeling of deltas and tidal marshes, and his project is a joint collaboration with Sergio Fagherazzi at Boston University and Pat Wiberg at the University of Virginia.
Aaron Hurst joined our lab as the lab manager after receiving her undergraduate degree in earth sciences at Vanderbilt University. She will leave us this August to start her PhD at the University of Colorado, where she will work with some of my former mentors (Greg Tucker and Bob Anderson).
This fall we look forward to welcoming Rosanna Neuhausler back to the lab as a PhD student. Rosanna formerly was an undergraduate researcher in the lab while she completed undergraduate degrees in Conservation and Resource Studies and Urban Studies.
We also welcomed Annika Min and Corey Scher as undergraduate research assistants. Undergrad research alum Lily Haine continues to work with us as time permits.
Accolades
In January, Erin Beller's work with the San Francisco Estuary Institute was featured in the New York Times! Read the article, titled "In Napa Valley, Future Landscapes are Viewed in the Past" here.
Will Nardin received an Synthesis Postdoctoral Fellowship from the National Center of Earth-Surface Dynamics. Congratulations, Will! We're glad you're here!
We congratulate Morgan Williams for passing his qualifying exam in May 2016. On to the PhD! Morgan enjoyed a much-deserved fly fishing trip after the successful quals.
Morgan also received multi-year research support from Department of Energy Office of Legacy Management for his dissertation work characterizing soil change on engineered uranium mill tailings disposal cells. Here is is in the the field (Bluewater, NM) in a pit that shows the 8ft thick compressed clay radon barrier.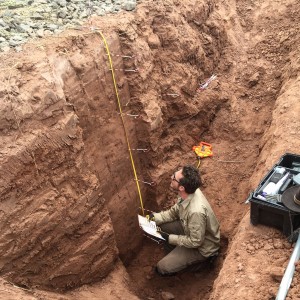 Rosanna Neuhausler was selected for the incoming cohort of DS421 students (Data Sciences for the 21st Century, an interdisciplinary, NSF-funded National Research and Training Program on campus). Congratulations, Rosanna!
Field work
Last summer Mollie traveled to Niger for continued work with AGRHYMET, the Permananent Interstate Committee for Drought Control in the Sahel.
In November Laurel and Aaron participated in the third experimental flow release in the Everglades for the Decompartmentalization Physical Model (DPM) project, along with colleagues from the USGS and South Florida Water Management District. Our work focused on measuring bed shear stress and particle entrainment across gradients in vegetation communities.
Morgan Williams started the year by commissioning the Mobile Soils Laboratory, funded through his DOE grant (see below), and proceeded to conduct field work in Bluewater, NM, and Falls City, TX.
Papers
This was a productive year for getting papers submitted and published.
Laurel's latest includes the following:
Larsen, L. G., M.B. Eppinga, P. Passalacqua, W. M. Getz, K. A. Rose, and M. Liang. 2016. Appropriate complexity landscape modeling. Earth-Science Reviews. doi:10.1016/j.earscirev.2016.06.016. Link
This paper focuses on how to construct models of landscapes at the appropriate level of detail, and how to integrate data-driven modeling with simulation modeling. Supplemental material for this paper includes a teaching tool to systematically aid in the development of simulation models. 
Larsen, L., L. Hajek, K. Maher, C. Paola, D. Merritts, T. Bralower, I. Montanez, S. Wing, N. Snyder, M. Hochella, L. R. Kump, and M. Person. 2015. Taking the pulse of Earth's surface systems. Eos, 96, doi:10.1029/2015EO040525. 
This opinion piece proposes a new program of process-oriented sampling (the Earth Rover Initiative), continental drilling, and a network of coordinated experimental and analytical laboratories to address grand challenges in surface Earth processes.
Yuan, J., M. Cohen, D. Kaplan, S. Acharya, L. Larsen, and M. Nungesser. 2015. Linking metrics of landscape pattern to hydrological process in a lotic wetland. Landscape Ecology, 30, 1893-1912.
This paper quantifies the sensitivity of hydroperiods to the connectivity of flow paths in wetlands.
Larsen, L., J. Harvey, K. Skalak, and M. Goodman, 2015. Fluorescence-based source tracking of organic sediment in restored and unrestored urban streams. Limnology and Oceanography, 16, 1439-1461. Link
Here we used fluorescence spectroscopy and PARAFAC (parallel factor analysis) to track the origin of fine sediment from 6 different source locations in urban streams.
Erin Beller lead-authored a paper on the historical ecology of the Santa Clara River, CA:
Beller EE, Downs PK, Grossinger RM, et al. 2016. From past patterns to future potential: using historical ecology to inform river restoration on an intermittent California river. Landscape Ecology 31(3):581-600.
She also co-authored a paper on functional flows in modified riverscapes :
Yarnell SM, Petts GE, Schmidt JC, Whipple AA, Beller EE, Dahm CN, Goodwin P, Viers J. 2015. Functional flows in modified riverscapes: habitats, hydrographs, and opportunities. Bioscience 65(10): 963-972.
and a book chapter on California estuaries for the Ecosystems of California textbook:
Cloern JE, Barnard P, Beller E, Callaway J, Grenier JL, Grosholz ED, and 8 others. 2016. Estuaries: Life on the Edge. In Ecosystems of California, ed. Erika Zavaleta and Harold Mooney. UC Press: Berkeley, CA.
On top of these, many new papers by various members of the group have been submitted this summer. Stay tuned for the latest!
Conferences
ESDL members participated in several meetings this year.
Danielle Watts, Laurel, and undergraduate research assistant Lily Haine attended the Ecological Society of America Meeting (Baltimore, MD) in August 2015. Danielle and Laurel chaired a session with colleague Maarten Eppinga, titled Snapshot Ecology: Inferring Ecosystem Dynamics from a Single Point in Time or Space. Danielle presented a talk, and Laurel and Lily presented a poster on Lily's modeling work on nontransitive competition dynamics, which is available here.
Erin Beller presented a poster at American Geophysical Union titled Operationalizing ecological resilience at a landscape scale: A framework and case study from Silicon Valley. She also co-chaired historical ecology sessions and delivered a presentation at the American Association of Geographers meeting in San Francisco. Her presentation was titled Upside-Down Rivers and Part-Time Estuaries: A Historical Reconstruction of Dynamic Aquatic Ecosystems in Coastal California. Erin was also selected to attend a workshop at the Socio-Environmental Synthesis Center (SESYNC) in Annapolis, MD this summer.
Chris and Laurel also presented at AGU this year. Here is a photo of Chris delivering his poster, titled "LiDAR illuminates the influence of elevation, aspect, and vegetation on seasonal snowpack: case studies from four western Critical Zone Observatories":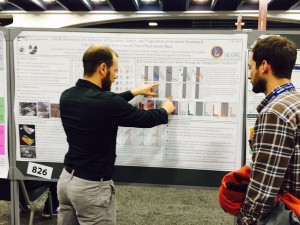 At the AGU meeting, Laurel co-convened a session on the ecogeomorphology of tidal marshes and presented a talk titled, "Self-organization in irregular landscapes: Detecting autogenic interactions from field data using descriptive statistics and dynamical systems theory."
In January Laurel attended an inspiring workshop at the Powell Center in Fort Collins, CO on Operationalizing Ecological Forecasting. Her presentation, on forecasting in ecohydrology, is available for download here.
Chris and Laurel attended a small workshop on Information Theory in the Earth Sciences in at the Scheefernerhaus, which is a research station on the Zugspitze, the highest point in Germany. The workshop was a great chance to present our work on the use of transfer entropy to perform causal inference in the environmental sciences. (You can see our posters here and here.) We received great feedback from our colleagues in the earth sciences, math, and physics. Sadly, though, we lost the foosball tournament. Coming from California, we experienced the coldest temperatures of our winter at the workshop, which took place during a raging blizzard. I'd never before had the experience of giving a presentation while bombs (avalanche blasting) were literally exploding around us!
When our view finally cleared, this was what we could see from the conference room:
This was one of the most amusing photos from the meeting, featuring Chris and me:
Teaching
A few cool things to report from teaching…
Laurel's Water Resources and Environment class in the spring (GEOG c135/ESPM c133) was a blast to teach. Some of the student's final projects, on contemporary water resource issues in California and all over the world, are featured here!
Below is the teaching tool that we designed to aid in the development of simulation models of landscapes (from our appropriate-complexity modeling paper described above). You can also access the tool in Prezi by following this link.